version française ici : https://www.typeh.net/t1136-vos-premiers-pas-sur-le-forum-presentation-ajout-de-photos-infos-utiles
Hello to all of us,
First of all, this tutorial goal is here to explain to you how we works; When you arrive somewhere, the first think you do is saying hello. So you will have to present yourself Please be original while writing it. Writing in english in the forum is possible by adding a [IN ENGLISH] tag at the beginning of your post title or by answering to a post with this tag in the beginning of its title. If a post have been written by another person in french, thanks not to anwer in english. As well, we have asked to non english speaking persons not to answer in french in [IN ENGLISH] messages.
All forum rules are written down there (sorry it's in french) :
https://www.typeh.net/t453-conditions-generales-du-forum-aussi-appelee-la-charte
Some parts of the forum are restricted access area. Here are the explainations :  
- Writing on the forum : automatic unlock by creating a presentation topic. If your presentation is too short, your acess should be rlocked by an administrator. It will be unlocked after adding informations in your presentation topic
- Helping list : you need to sign up. contact an administrator to do that. More informations here :
https://www.typeh.net/la-vie-du-forum-f24/liste-d-entraide-t963.htm
- Sell / Buy : Acces granted by an administrator until 10 messages. Specifics rules :
https://www.typeh.net/t2623-conditions-generales-de-vente-aussi-appelee-la-charte-achat-vente
- Tutorials / Guides : Acces granted by an administrator until 50 messages. Specifics rules :
https://www.typeh.net/t2624-conditions-generales-des-documentations-aussi-appelee-la-charte-tutos
To create a presentation topic follow this steps :
click on  "Présentation des nouveaux membres"
Then on "Nouveau"
Fill in the fields and then click on "Envoyer"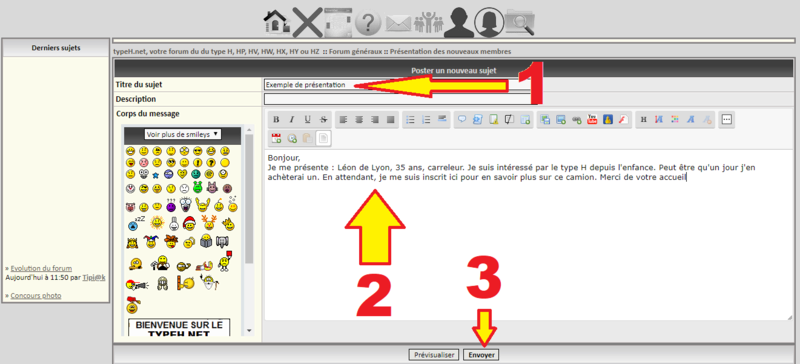 Presentation done. You can access to the forum (unless Buy / sell / tips section who will be accessible within 10 messages)
les-relieur a écrit:

how can I add the pictures?
It's quite simple :
First of all click on the button
with floppy disk and picture on it
Then click on "ajouter des photos"  :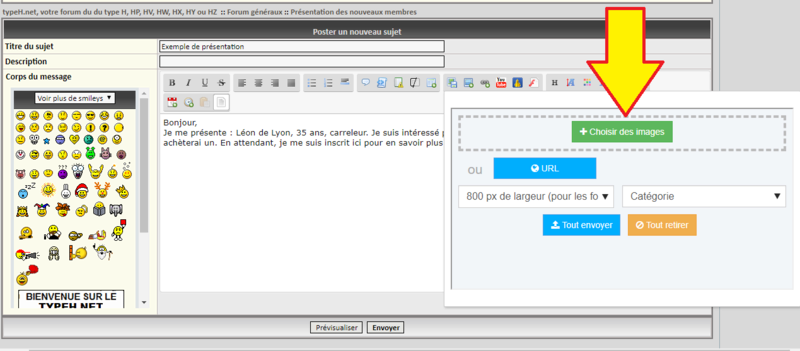 A browsing box as been automaticaly opened. Look for the picture you want. Select it then click on "Ouvrir" :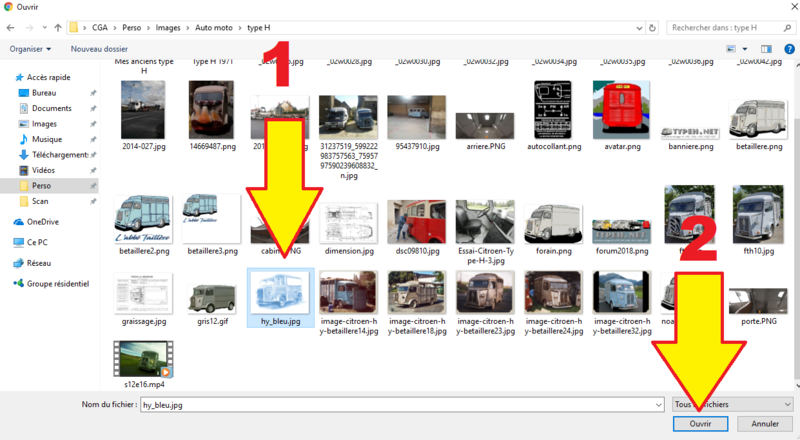 Click on "tout envoyer" :
Be patient, your image is being uploaded. When the grey "Tout insérer" button appear, click on it
Image is send. Repeat steps if needes, add text if you want then click on "envoyer" :
Your picture is displayed on the forum...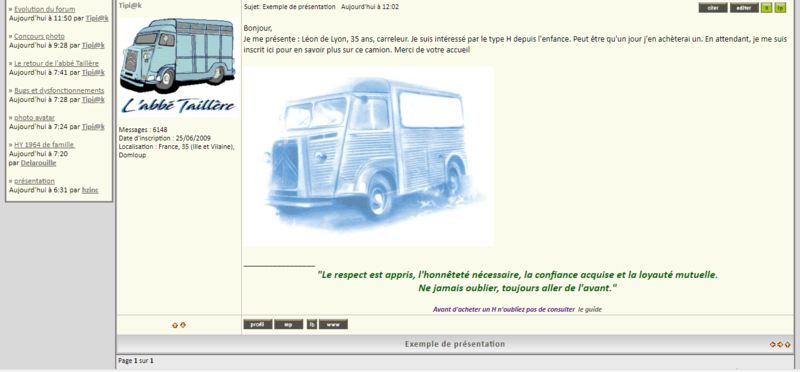 Colors name are a sign :
- Green : not unlocked account
- Grey : unlocked member
- Blue : Moderator. They are here to help you in you message troubles.
- Red : Administrators. For all technical issues
- Black : inactive members